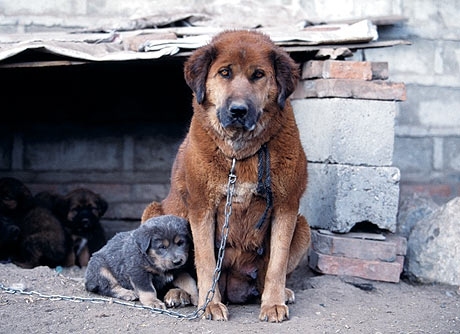 Traditional Tibetan selection
People who cannot see the "original Tibetan mastiff" in native dogs, are used to criticize them by saying they are just "mutt dogs", which are allowed to mate without any control and they are respected just because of their working skills.
First of all, even though traditional selection is far from "modern" selection, you must know it does not toss dogs aside. Dogs are often chained and kept separately, definitely they cannot mate without man intervention.
Furthermore, we must think that anyone who gives custody of his own survival to dogs, whether hunter, sheperd, or nomad merchant, needs efficient dogs with typical features of the breed. Only a focused mate can guarantee this. So, it is clear that Tibetans do not promote mates among their dogs and street dogs or other dogs, neither if they would have the chance to do it. This would be disadvantageous for them and totally in contrast with their interests.
The most ancient anatomical portraits date back to the first half of 18th century, and they do not show different dogs from those we are used to see nowadays. This is the confirmation of a well defined existing population, which have maintained fixed features over centuries. Tibetans are proud of the special bound they have with their dogs, and this proves they also pay attention to dogs morphology. All these elements together prove that saying these dogs are the result of randomized matings is a senseless statement.
The lack of pedigree is not a "serious defect", because Tibetan culture and tradition safeguards the "pureness" of the breed especially in some areas. In Tibetan culture crossbreed is considered a "blasphemy" which deserves divine punishment. Besides, you have to take in account the most "ancient" Western bloodlines only date back to the beginning of the 1970s.
---
---